"There was an Old Person of Ischia,
Whose conduct grew friskier and friskier;
He danced hornpipes and jigs,
and ate thousands of figs,
That lively Old Person of Ischia."
Edward Lear (1812-1888)
An English writer known for his 'literary nonsense', Lear's silly limerick captures the moment of where we are today. I have had a bumper crop of figs this year and they keep coming! We keep eating them and finding ways to put them away. All I can say is ….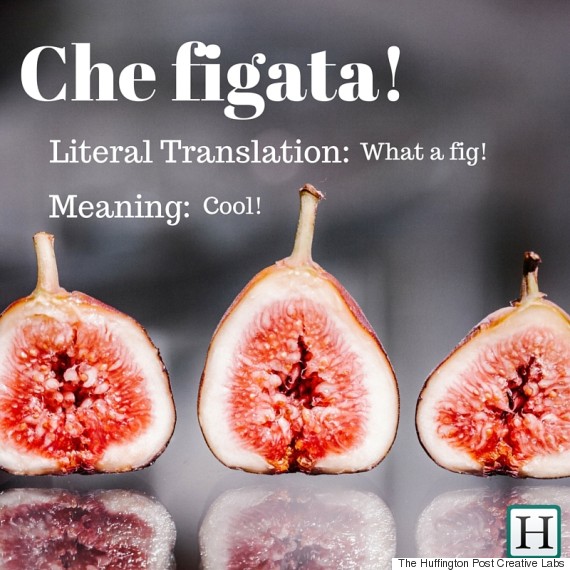 This Italian expression, not easily translatable in English in a literal way, sums up what enthusiasm we have for anything cool. It is with a certain sense of urgency that I post what I have been cooking with figs as it is September, fig time about to run out. My tree has been most bountiful and the figs keep coming and coming! I'm not too crazy about figs right off the tree, but I do like them when they have matured a bit on the kitchen counter. They seem to pick up in intensity of flavor and versatility. I started the season by experimenting with using figs as an hors d'oeuvre.
Barbecued Fig Bundles with Feta and Prosciutto
6-8 ripe figs (I peeled some – others I left intact)
feta (or other cheese of your liking)
8 slices of prosciutto
Make a small slit down the side of the fig and stuff with feta. Wrap the fig in a slice of prosciutto. Do the same for the remaining figs, then massage each with a little olive oil. Place on a heated grill basket and barbecue for a few minutes until the prosciutto begins to soften. Remove right away or they will stick to the grill and fall apart. Serve warm with a little drizzle of honey (optional). These bundles are delicious as a side dish to grilled meats and, I have found, delicious the next day as leftovers. I really like the different flavors – the salty from the prosciutto and feta, the sweetness of the figs. And they are so quick to make!
Another fig recipe that I have been toying with are small individual foccacce with figs such as these I made a few weeks ago.
They came out fragrant and delicious, perfect for an appetizer with cheese.
You can experiment with the concept as I did by tucking some blue cheese under the fig to give it a bit more kick. One of my favorite testers, Luca, my youngest son suggested that using a made-from-scratch focaccia dough might be even more flavorful and a bit crunchier. All points well taken as I will make this again and again as I have figs on the tree.
In my adventures working with figs, I tried a Fig Meringue Semifreddo as a birthday cake for my oldest son, Alex. Again I was inspired by a recipe offered by La Cucina Italiana, but I adapted all of the ingredients because I can't find the same here.
Fig Meringue Semifreddo Cake
Individual meringues purchased (about 22 depending on size)
Frozen Pound Cake (I used the Sara Lee brand) – half of the package, cut in 1/2 inch slices
2 cups heavy whipping cream
2 egg whites
1/4 cup sugar
1/4-1/2 cup grenadine
12-14 figs
Take 4-5 of your more mature figs (I peeled them lightly) and mash them with a fork. Add some sugar if you like. Set aside.
Whip the egg whites with a pinch of salt and two tablespoons of sugar until firm and stiff. In a separate bowl whip the heavy cream until it too has stiff peaks. I added another bit of sugar, but not too much. Then add the mashed figs by gently folding into the whipped cream with a spatula. Add the egg whites and gently fold into the mixture.
Cut a round of parchment paper and place at the bottom of a springform pan. Arrange about 10-11 meringues on the bottom. Take the remaining figs, peeled and cut in half, and place them against the side of the pan.
Add half of the cream/fig mixture and smooth to form the first layer of the cake. Place the pound cake slices on top of the cream layer to form another layer and drizzle the grenadine all over it.
Add the rest of the cream mixture and smooth the surface. Place the remaining meringues on top. Cover with foil and place in the freezer for at least 4 hours.
When you are ready to serve it, take the cake out of the freezer and let it warm a bit until it is easy to handle. Add a few more fresh figs for garnish if you like!
The cake held up well even the next day. Interesting flavors and very good! Speaking of interesting flavors, I was intrigued by Domenica Marchetti's Brandied Fig and Chocolate Crostata from the June/July issue of Fine Cooking magazine. Oh my! I highly recommend you check it out here
A very delicious conclusion to my adventures in cooking with figs! The chocolate crust is rich and very satisfying. It combines unusually well with the brandied fig jam which has chocolate notes in it as well. I made the jam a few days before making the crostata and thought that letting it sit a bit allowed the flavors to mellow. On this note I leave you with some final thoughts about my musings and journeys with figs this September. Even though after all these trials I don't quite feel that frisky like the Old Person from Ischia, I do want to be reminded that Romans considered figs to be the food of the gods, a hopeful and sweet sign of the bounty of nature and good times ahead.